Shenzhen Zhibang Packaging and Printing Co.,Ltd has been built in 1998, with 21 years development, we have become the famous manufacturer for the packaging products and the printing services.
Located in Shenzhen, Zhibang Packaging and Printing has built a completed supplying solution for our customers, we not only provide the packaging boxes, gift boxes, shopping bags, cardboard displays, printing services to our customers, but also can supply the packaging design, printing templates, quality testing to our customers. Based on those products and services, Zhibang Packaging and Printing has imported various advanced machines from German, US, Japan to make sure all products and services from us are at a high quality standard.
Nowadays, Zhibang Packaging and Printing has been running a factory with 17,000 square meters workshop, 120 advanced machines, 200 experienced workers, 20 engineers. We have 2 offset printing machines from Heidelberg which can ensure all printing on our products are perfect, 2 automatic die-cutting machines from Japan which can make sure all orders can be worked out in a short time, 2 automatic film lamination machines from Japan which can do the film laminating at 100,000 pcs/week, 5 bubble removing machines from China which can ensure the surface of all gift boxes are flat without bubble, over 20 machines which can support the products producing and quality testing.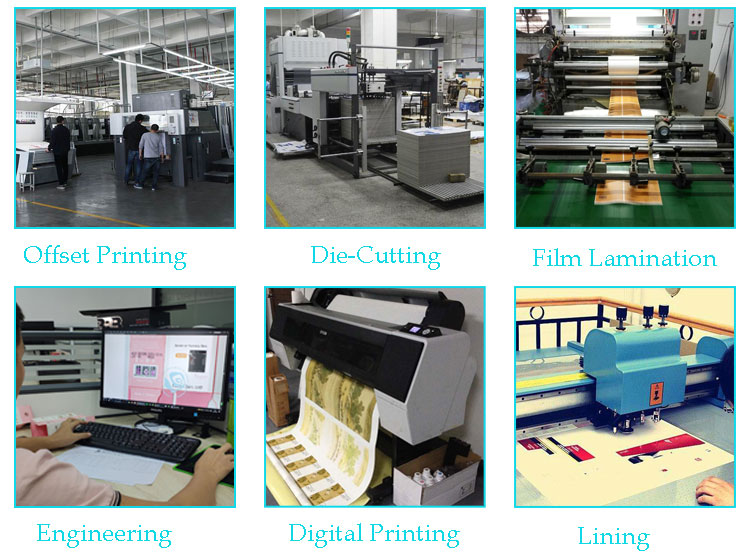 Furthermore, Zhibang Packaging and Printing has an experienced engineering department with 20 engineers, those engineers can find out a solution about our customer requests, with their help, all of our customer's orders are made in a high efficient way from the sampling to the mass production. We have 2 Epson digital printing machines to print the samples in 1 days, 2 Epson fast die-cutting machines to cut the samples in 1 days, which can ensure all samples can be finished perfectly and fast. No matter which format the artworks is in, our engineers can arrange them to be produced, especially PDF, JPG, Ai, CDR, DWG, PSD format.

As to our sales policy and terms, Zhibang Packaging and Printing take all aspects into account because we think the benefits of our customers should come first, our sales will be build a nice communicating bridge between the customers and the engineers, they will pass the information of the order accurately to our engineer, it will become easy for our engineer to know the requests from the customers. Additionally, we will refund all the sampling cost to our customer if the samples approved and the customer place the bulk order, if our customer is not satisfied with our samples, we also refund the sampling cost or our customer can ask us to improve the samples until the samples is good enough. And we will give 1% backup for our customer when we ship the goods to them incase of any damages and defective during shipping. Although all can be discussed, we still think the requirements from customer must be the first one which need to be respected.

All in all, thanks to our premium quality, competitive price, sincere services, Zhibang Packaging and Printing not only supply the packaging products and the printing services for the native market, but also win lots of market share in US, UK, Canada, Japan, France, ect. Zhibang Packaging and Printing will work hard on products and services to build a good praise in the whole world.